Polyester+Fiberglass Box IP66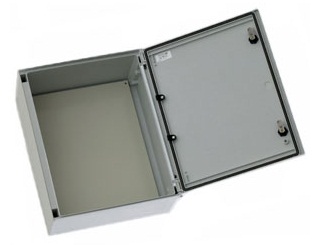 | | | |
| --- | --- | --- |
| description | rating | norm |
| Fibreglass reinforced polyester Enclosure (GRP) | RAL-7035 colour | IEC 62208 |
| Polyester Hinged Door | 180º opening | IEC 62208 |
| Double Insulation | Halogen free | IEC 60439-1 |
| Mechanical (Impact) Resistance | IK10 | IEC-62262 |
| Protection against dust-water | IP-66 | IEC-60529 |
| Thermal Class | A | UNE-21305 |
| Self extinguishing material | 960º | IEC 60695-2 |
| Temperature Range | -30º +60º | IEC 60670 |
| Current Rating | 1,000A | IEC 60439-5 |
| Rated Voltage | 660V | IEC 60439-5 |
| Dielectric Strength | 5,000V | IEC 60439-5 |
| Insulation Rating | 5M Ω | IEC 60439-5 |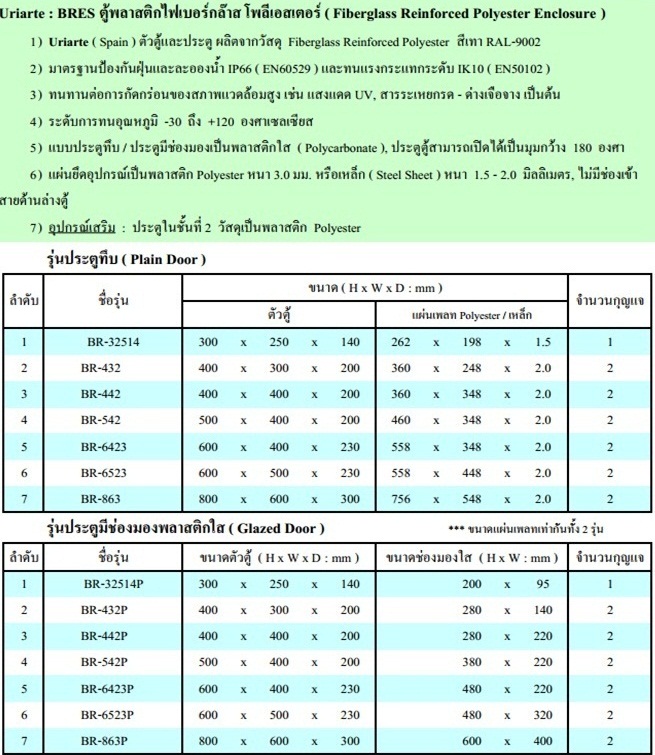 FEATURES OF THE ELECTRICAL ENCLOSURE SAFYBOX-BRES:
Fibreglass reinforced polyester (GRP/SMC) rear back panel and hinged door - Light grey colour RAL 7035
Hinged door with double bar lock. Glazed door version also available with UV stabilized polycarbonate window
High Insulation rating IP66 and impact resistance IK10

Big range of accesories:
Modular chassis, mounting plates, viewing windows, 3 point lock system with swinging handle, key locks, wall mounting brackets, ventilation devices, etc
INNOVATIONS AND ADDED VALUE:
Extensive range of 8 different sizes of electrical enclosures, every size is available on 2 different versions, plain or glazed door
Modularity
:
Used as an individual enclosure or connected together to build up complete Low-Voltage switchgear and controlgear panels
Customization / Flexibility
:
Easy to machine and customize the enclosure according to customer requirements. We offer our comprehensive in-house robot capabilities for
customization of enclosures, easy and economic solutions to be able to save you time and money on any simple or complex enclosure machining

Double Insulation
:
Specially designed with double insulation channels for direct wall mounting, there is no need to drill any hole on the enclosure for mounting on the wall,
keeping the IP rating at maximum and all the equipment mounted inside the enclosure remain completely insulated from the outside, avoiding accidents,
maximum electrical safety guaranteed
Panel building Customized Solutions
:
We also design and manufacture complete Low-Voltage electrical assemblies – metering, protection and distribution of energy according to utility standards or
any type of industrial Low-Voltage switchgear and controlgear panels

End User friendly
:
We designed an end user friendly hinge pin system which makes replacing doors very easy. In addition, it will enable to work separately on the rear back panel and
on the door, making the assembly more comfortable and once the panel is ready just easily fit the door onto the panel – job done!
Antibow patented system
:
It will prevent the door from bowing outwards and having deformations which guarantees a maximum IP rating and overall sealing of the enclosure,
specially when it comes to large sizes.

BENEFITS AND ADVANTAGES OF THE FIBREGLASS REINFORCED POLYESTER (GRP):
Thermostable and easy maintenance
.
Fibreglass reinforced polyester (GRP). It is the best insulated material available in the market. Particularly suitable for all outdoor applications where polyester
offers the best quality and a prolonged life span even in the most adverse weather or chemical conditions. In addition, it is a non-hygroscopic and UV stabilized material,
which guarantees an optimal performance rated from -50º +120º

Self-extinguishing and flame retardant
Fibreglass reinforced polyester (GRP) does not spread the fire. It is a thermo setting material and it will not melt or deform in case of fire or overheating.
On the contrary, thermoplastic materials do melt, easily deteriorate and can usually spread the fire which will cause a considerable damage in the system..
Power and heat conductivity
:
Due to the complete insulation properties, there is absolutely no danger when handling a fibreglass reinforced polyester enclosure and
there is no risk of electric shock (view related video). In addition, due to the excellent thermal insulating properties of fibreglass reinforced polyester,
any external heat source will not damage the equipment mounted in the enclosure, contrary to the traditional steel enclosure
which been a high heat conductive can cause considerable damages on the internal equipment.


Complete absence of toxic components and heavy metals
.
Complying with the European directive, RoHS in regards with hazardous substances.